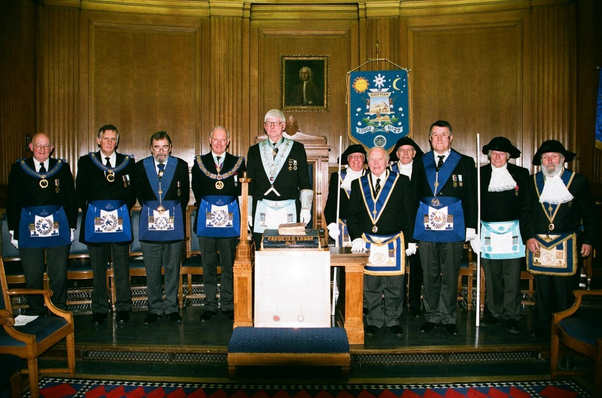 A Celebration of the Union
At their regular meeting held in Great Queen Street on the 4th December 2013 the Egyptian Lodge No.27 hosted a special event, organised by the Association of Atholl Lodges, to mark the bicentenary of the Union in December 1813.
Nearly 100 Brethren attended the meeting, including representatives from many of the 122 Atholl (or Antients) warranted lodges still working under the United Grand Lodge of England. The event was honoured by the presence of many distinguished Brethren; including the Metropolitan Grand Master R.W. Bro. Russell Race DL, who is the President of the Association of Atholl Lodges, and V.W. Bro. John Hamill one of its Vice Presidents.
The lodge was opened by its Master W. Bro. Bjarne Rasmussen; after which the Atholl Association banner was paraded in, and the Metropolitan Grand Master was officially received by the lodge. The Brethren were then entertained by three very informative and entertaining addresses; these dealt with the formation, history and legacy of the Antients Grand Lodge. The first address was delivered by W. Bro. Geoffrey Abraham the Association Chairman, the second by W. Bro. Clive Moore the Association Liaison Officer; and the final address by R.W. Bro. Russell Race DL.
All those attending agreed that it was a most enjoyable event, and a suitable way to celebrate the Antientsí contribution to the Union. If you would like more information about the Association of Atholl Lodges, or to purchase a copy of the commemorative booklet produced to accompany the event please visit the Association website shop.